Discography
The Mysteries of Life -
Released June 2012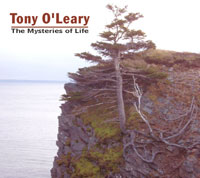 This CD is dedicated to all the folks in the 21st century who respect and revere nature, for without them future generations wouldn't have any wilderness left. Also to those folks who never understood what nature and it's great force is all about? The best way to answer this question is a sense of connection and involvement. The Ancient First Nations people summarized it best in this old saying "The farther a person's feet are removed from the earth the less respect they have for living and growing things." This saying might be old however it is just as applicable in the 21st century as it was thousands of years ago. May the lessons and teachings of the Ancient First Nations Elders be instilled in future generations. Let's do it for our children. Yours in conservation Tony O'Leary
Song List
The Long Range Mountains Beckon Me
Rock Stompin Girl from the Bay
Cliffty Pond Medley
What are ya Doing to me Bog Boy's?
My Little Armalite
The Lark in the Morning
Babbling Brook
The Boys Come Rolling Home
Man of Our Times
Drunken Sailor Hornpipe
What do ya do with a Hairy Arsed Bayman?
I got a lot a Girl Friends
The Orphan/Cuttin Boughs
This Old Town
Tony O'Leary Rock's the Rock -
Released June 2009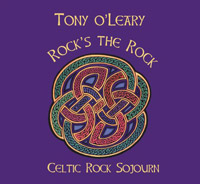 Celtic Folk Rock featuring some of the finest musicians in eastern Canada. Celtic based with accordion, fiddle and drums driving the beat. Enthusiasm and verve is the best way to describe this CD. Check out the rave reviews on my web site.
Song List
Be A Man Me Lad
Mick McGuire/Napolean Crossing The Rhine
Travelin Newfoundlander| Lyrics
Micky Dam
The Little Begger Man
We're Walkin On The Tight Rope of Hell
Whiskey In The Jar
Right All Right
Drunkin Sailor
Ramblin Rover/Amy's Waltz
Pump the Box -
Released St. Patrick's Day 2007
"Music, Songs, Words and Tunes"

Welcome aboard Tony's kitchen party .Featuring as guest on the cd ,some of east coast Canada's best musicians.Ian Chipman, Jerry Strong, Mike Doyle, Glen Hiscock and Rob Brown. All musicians currently play with different bands. Such as The Fables, The Irish Descendents etc. Also this CD marks the first time locally made Irish pipes have appeared on a local Newfoundland CD. The pipes were played by Rob Brown and made by Neil O'Grady of Carbonear which also makes this CD a history maker.With such a great lineup of musicians, you cannot afford to miss this kitchen party. It's a party in a box!!!!

The CD is dedicated to all the transient workers both past and present who travelled many miles to earn a living for their families. It just ain't easy. Also, to all the folks I have had the fortune and misfortune to meet...
Special thanks to: Ian Chipman, Jerry Strong, Mike Doyle, Glen Hiscock and Rob Brown for their wonderful contributions in making this CD possible.
Where to buy..
Sunrise Records Avalon Mall St. John's
O'Briens Music, St.John's
Freds Music, St.John's
Song List
Far Away in Australia | Lyrics
Uncle Frank O'Leary's Labrador Tunes
Red is the Rose | Lyrics
Livin in a Syncrude Eye | Lyrics
Cooley's Reel
The Flower of the Strabane | Lyrics
Smash the Window
The Banks of the Lee | Lyrics
Black Gold | Lyrics
Sitting on a Fort McMurray Bus | Lyrics
The Breakout Set
All songs and arrangements registered with SOCAN.
©2006 Tony O'Leary. All rights Reserved.
*Song #1 - Traditional: The Happy One Step
*Song #2 - Kings of Kerry: Written By Sharon Shannon & The Water Boys (Mike Scott & Steve Wickham)
*Kings of Kerry © Sharon Shannon & The Water Boys (Mike Scott & Steve Wickham)