Environmental Interests and Concerns
Have a look at what's happening to our precious land and water and if your like me you too will be disgusted by the ignorance of others.
No access = pristine wilderness

Easy access = more pollution

It's Your Garbage!
You don't take your money or your garbage with you under the sod. Here are pictures of 50 year old 20th century garbage.
PLEASE RECYCLE AND CHOOSE BIODEGRADABLE PRODUCTS!
The Choice is ours - pollute or preserve
How You Can Help Keep Our Environment Pristine.

EVERY EFFORT COUNTS: We've been blessed with a gorgeous landscape to call home. Some of the most breathtaking views may be from your window. You can help the many recycling facilities and I preserve our landscape by removing the metal objects that liter our towns and country side, thus keeping it beautiful for future generations. Here is some information to help you maintain our communities from 21st century garbage.

Please contact your local collection company and ask for a list of items that they can take.

List of metal recyclers
Metal recyclers pay you for your old cars and metal and some provide a pickup service.
Dominion Recycling
www.dominionrecycling.ca

Central Metals (1983) Ltd
1-709-256-7780

Newfoundland Recycling Limited
www.newfoundlandrecycling.ca

Newco Metal & Auto Recycling
www.newcometal.com
1-709-753-3070

We have come a long way! Stewardship to the land is the key.
Yours in Conservation Tony O'Leary
See for yourself in the Gallery of Shame
See the improvements in the Gallery of Pride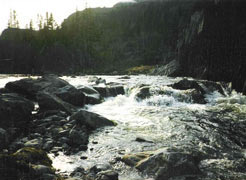 I encourage all young people to conserve and protect all of our wild spaces for if we do not the future of the next generation will be compromised. I hope that in the future we will all look at nature as an extension of ourselves.
View letters with Acrobat Reader